Frequently Asked Questions
---
Ordering Locations and Payment
Visit our Payment Information and Online Ordering page for more information.
View Online Ordering Video
We accept Visa, MasterCard, Discover, American Express & PayPal.
We do not accept cash or check payment.
You must pay up front for all locations ordered.
We locate in all cities and states across the United States as well as Canada.
Step 1: Select your machine type on our Home Page and click Order Now!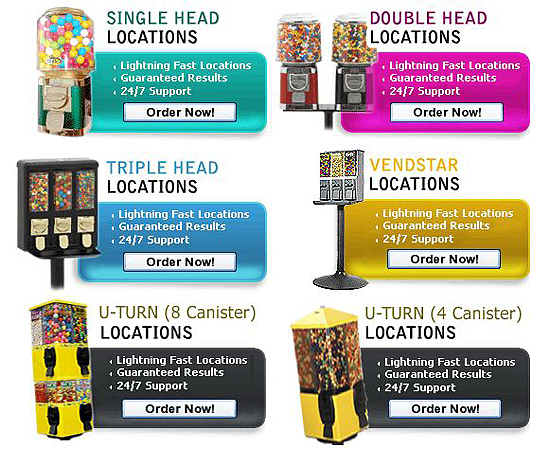 Step 2: Click the Purchase Location Here button.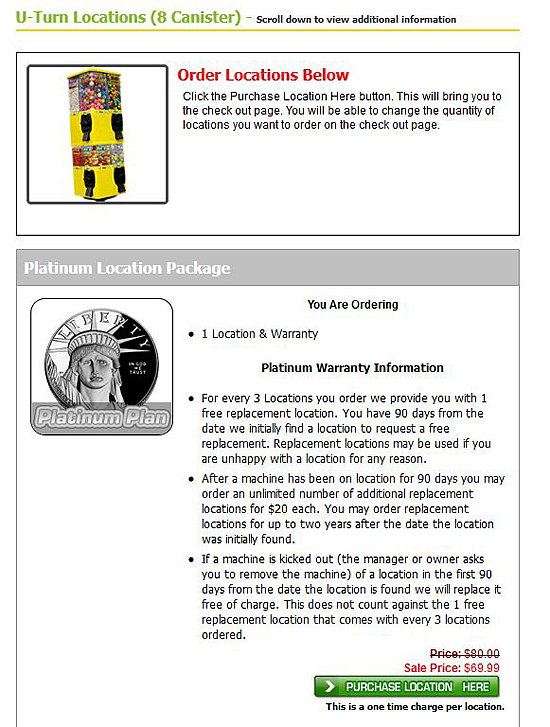 Step 3: Enter in the number of locations you want to order in the Qty box. Click Update Quantity and it will update the Total Due Today amount. Enter in your Billing Information.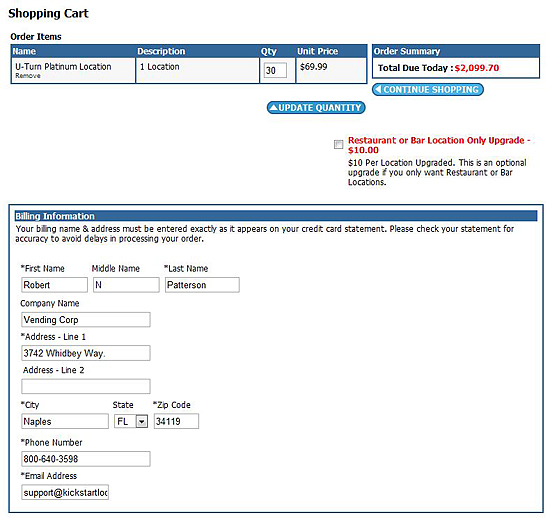 Step 4: Select Payment Type, Credit Card or PayPal, and enter in the information requested. Click Checkout.
Step 5: Click Place Order.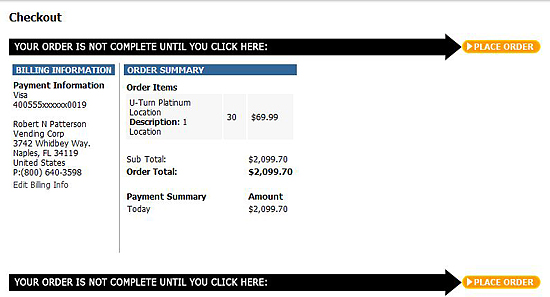 Step 6: Check your email (should arrive within 24-48 hours) for the Information Request Email. Click the link that says "Click here to Enter In Your Order Information."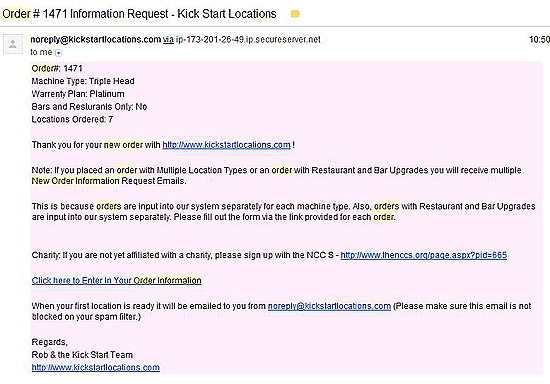 Step 7: Fill out Steps 1 – 4 on the New Order Information Form Online. This is the page that will be displayed when you click the link from Step 6.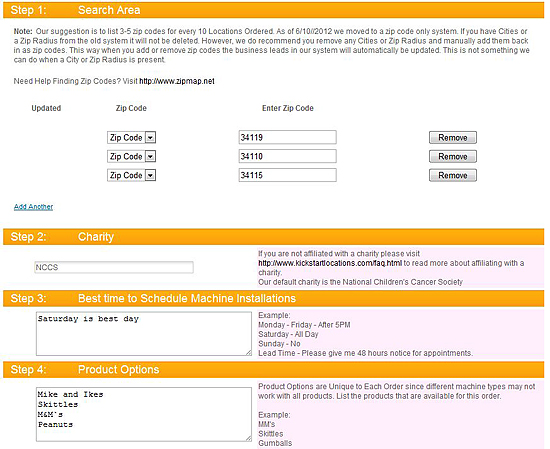 Step 8: Fill out Step 5 on the New Order Information Form Online and Click Save. Now, all of your order information is in the system and our team is ready to get to work.
Step 9: Wait for your first location to arrive via email. Print the email and drop the machine off at the designated drop off time. If you can't make the designated drop off time click the "Click Here to Reschedule Your Appointment" link and we will re-schedule the appointment for you and email you back with the updated drop off time.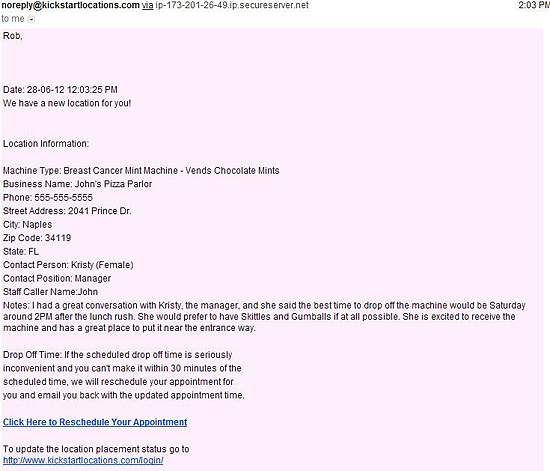 Pricing is dependent on the type of machine you are locating. The reason prices are different is due to the level of difficulty in placing each machine.
To see location prices for your machine select your machine type on our home page.
On the check out page we offer an option to upgrade to Restaurants and Bars Only for an additional $10 per location. This is an option and not required. Some of our clients prefer to have only restaurants and bars due to the limited product options they offer.
The high quality of locations is the same for our Platinum, Gold and Silver Packages. The only difference is the warranty that comes with the locations.
Our Platinum and Gold packages allow you to order replacement locations for $20 each for two years from the date your initial location is found. Replacement locations come with a 90 day kick out warranty. You may order an unlimited number of replacement locations for $20 each, however, you must remove the machine from its previous location prior to ordering a $20 replacement. $20 replacement locations can be ordered if the location isn't performing or if for any reason you need or want to remove the machine from a particular business. Order Replacement Locations Here
Signing up with a Charity
Signing up with a charity will enable you to get into bigger and better locations without paying a commission to the business owner. Most charities will give you a sticker to put on your machine. This shows that you support the charity.

We suggest the National Children's Cancer Society Vending Program. The National Children's Cancer Society charges $1 per month for each sticker. You need one sticker per machine.

We maintain a dedicated telephone sales staff of over 20 highly qualified individuals that secure your locations for you. Once we find a location it will be automatically emailed to you. Then all you need to do is drop the machine off. We will provide you with all of the contact information including the managers or owners name and phone number.
What to Say and Do when you Drop a Machine Off
Introduce yourself and ask for the contact person whom we spoke with.
Let the contact person know what charity you are with.
Ask the contact person where she/he would like you to place your machine. If you see a good spot it is ok to make a suggestion.
Leave the contact person with your business card or make sure that your contact information is on the machine.
If you visit a location we provide you and you feel that it is not a good fit for your machine then you are not required to place a machine in this location. In locator terms this is called the right of refusal. When you hire a locating company you want to ensure that you are able to refuse a location. Finding you the best locations is our job. However, we understand that sometimes you may prefer not to place a machine in every location we provide.
Why do we have the best right of refusal in the business? Our right of refusal works for you on two levels. First, you will be able to see the entire lead list of businesses on our website before we ever make a single call. If there are any businesses that are too far away or in bad areas you can simply click the remove button and we will not call that business. Second, if we secure a location on the list that you dislike you still have the opportunity to turn it down. This offers you 100% protection to make sure you're getting the best locations.
Types of Locations we Target
This is a general list of the types of locations we target. Keep in mind though that every machine is different so the list we target may vary slightly for your machine type. For example spiral gumball machines do best in pizza parlors.
Apartment Buildings – (100+ Units)
Auto Repairs – (5+ Employees)
Banks
Barbers
Bars
Beauty Salons – (5+ Chairs)
Car Dealers
Cell Phone Stores
Chinese Restaurants
Department Stores - (JC Penny and K-Mart)
Electrical Supply
Employment Offices
Hair Salons
Hotels
Junk Yards
Laundromats
Lumber Companies
Pawn Shops
Pizza Parlors
Plumping Supply
Print/Copy Shops
Restaurants
Tanning Salons
Tattoo Parlors
Truck Stops
Trucking Companies – (Drivers lounge)
Vets


You may also create a Wish List of businesses for us to call. These are businesses that you want us to call specifically for you. Once you login to our Admin Panel (if you are a new client you will get your Admin Panel login information on Sunday) go to the profile tab and click on Wish List. From here you will be able to create a list of businesses for us to call. You only need to enter in the businesses name and phone number. You can login periodically and check the status of the wish list.